Searching for salamanders is like playing biology bingo- overturning rocks and wet logs you could find a dangerously bright millipede, a waxy, white grub as big as your thumb or- if you get lucky- a small, endangered salamander.
After a week of looking for these rare amphibians in the heart of Mexico's biodiversity, Sierra Gorda, we had almost given up hope, nudging wet bark despondently with our boots for a sign of creatures which thrive in the dark and the damp.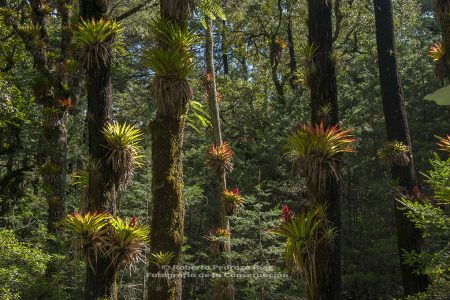 Roberto, Chief of the Lands for Conservation program with World Land Trust's partner organisation in Mexico (Grupo Ecológico Sierra Gorda, GESG), was guiding us seamlessly through near-invisible trails in the cloud forest of the Guayamé reserve. He had not yet seen a single salamander in any of GESG's reserves all year.
Where had they gone? We wondered, peering up hopefully into the bright bromeliads perched in the trees and under the moss carpets. Could they have fallen victim to the deadly amphibian pandemic chytridiomycosis? Had they already been affected by climate change?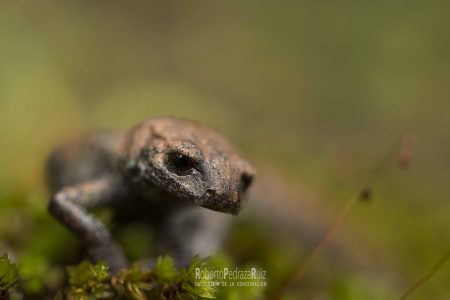 Until finally- bingo! A twisted shape under a dead branch, still and lifeless at first glance, but soon bright-eyed and strutting over her macro landscape, we found Sierra Gorda's first salamander of the year. Roberto didn't even recognise her species from her unusual rusted red and cloudy blue colouration; it is possible she is a first record for the area!
We are still waiting for species identification, but Roberto has said that whatever she may be, the species is likely to be threatened by habitat loss and climate change. But finding a new species gives us hope for the hidden creatures our reserves in the Sierra Gorda are protecting.
Nina Seale works as Writer/Editor for World Land Trust, GESG's partner in the UK.