This new species of tree that's been named in Puro's honour, is related to the tropical house plant Schefflera, more commonly known as Umbrella tree. It was discovered in 2019 in eastern Ecuador by the team of Pete Lowry, David Neill, C. Plunkett, M. Mora, and E. Merino, during part of a series of expeditions in search of Sciadophyllum.
Growing up to 8 metres in height this species is distinguished from other similar ones by a coffee-coloured covering on its young inflorescences and leaves. At time of writing, only two specimens have so far been sighted.
Watch our short film about the other Puro species.
Saving the Rainforest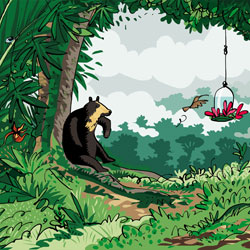 The Puro Orchid was discovered and lives within the protected habitat of our Puro Rainforest Reserve in Ecuador.