Ancient wetlands restored, signaling the return of former nature dwellers from the skies. An eco-lodge nestled within the rainforest, facilitating educational visits from Puro's clients, consumers and employees.
A hidden waterfall re-discovered whose waters splash against reforested terrain. Sloths determined to cross roads irreverent to the oncoming traffic, supported by patient wardens to their home in the trees.
Acres Saved
Watch a short film made by REGUA about the protected area that contains the Puro Coffee Brazil Rainforest Reserve.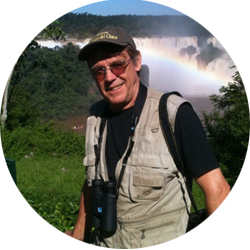 "The property that was acquired was the largest fragment of forest in the region located within the buffer zone of Parque Estadual dos Três Picos. This reserve enabled REGUA to connect this fragment with the existing REGUA reserve, increasing the population viability of the species, permitting the gene flow between the areas and reducing the probability of local extinction within this fragment."
Reserve Profile:
Organisation:
Reserva Ecológica Guapi Assu (REGUA)
We have saved:
395 acres
Total reserve size:
18,265 acres
Biodiversity:
456 species of birds, 47 species of amphibian, 61 species of mammal including Puma, and Southern Woolly Spider Monkey.
Habitat type:
Low elevation Atlantic rainforest
Elevation:
Ranges from 50 – 201 metres a.s.l.
Location:


Located just 1.5 hours drive from Rio de Janeiro, on the far western part of a strip of Brazil's Atlantic coast. View in Google Maps

Saving the Rainforest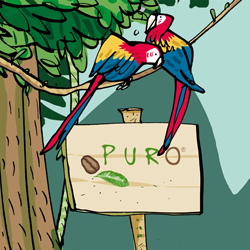 We have been buying and protecting rainforest in partnership with World Land Trust, since 2005. Take a look at the other Puro Rainforest Reserves we have managed to create.