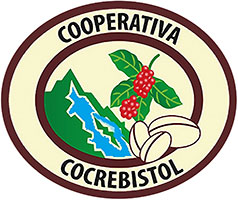 The fruity, citrus nuances in combination with spicy undertones give a full, well balanced flavour to this delightful single origin coffee.
Coffee Profile:
Origin:
Santa Teresa, Ocotepeque, Honduras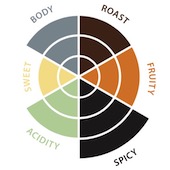 Coffee Type:
Fairtrade Organic Shade Grown
% Catuai (arabica coffee species)
% Lempira (arabica coffee species)
Strength:

Gratitude for the Growers:
COCREBISTOL (Cooperativa Cafetalera Biological Reserves Santa Teresa, Ocotepeque Ltda) are positioned in the west of Honduras in Santa Teresa. Coffee here is grown at approximately 1250-1600m above sea level, by 72 smallholder (18 women and 54 men) producers who hand pick the beans in November, wash, clean by hand and then sun dry their harvest.
They were formed not to make money, but to tackle the problem of coffee wastewater (known locally as agua miel), which is known to be a heavy polluter of rivers. By cleaning this nutrient-rich coffee wastewater onsite, they have not only radically reduced local water pollution, but they are able to use it to irrigate local pastures.
Their members bring the whole coffee fruit (not beans) directly to them and all this fruit waste is composted and then returned to the member's plantations as natural fertiliser.
They funded the purchase of a small coffee roaster and helped startup a women's initiative that roasts and packs their coffee and sells it at local markets.
To combat the migration of youth away from the local area to the USA and big cities in Honduras in search of employment (which has a negative knock-on effect for the community), they initiated a series of training programmes to create work opportunities. Production of organic fertiliser from coffee pulp, coffee farm maintenance and growing vegetables to sell at markets in both Honduras and El Salvador.
Their coffee is so good that Puro now buys almost all of their harvest.
For us at Puro, COCREBISTOL are much more than a coffee supplier, they have become close friends, allies and partners in the Puro Coffee Plantation or Finca de Puro Café as it is known locally.
KÁVOVÉ SMĚSI PURO COFFEE